One of our legion attended an M & T Bank event last night at the Niagara Falls Country Club. The topic I posted about yesterday became a point of interest to some of the attendees. One of them made a point to say that in order to remove a deed restriction on a property a Public Hearing is usually held. He also pointed out that local governments who have custodial control over these restrictions usually charges large sums to remove deed restrictions.
My question is did the Town of Grand Island receive any fees for the removal of that Deed Restriction? Or did someone that we don't know about yet receive something? Remember, refer back to my last post. The removal of that Deed Restriction is going to earn that Real Estate Developer an extra $1,123,200 a year. As our elected officials, what did Mary Cooke, Ray Billica, Chris Aronica and Gary Roesch receive for the Town of Grand Island for removing that Deed Restriction? Or did they directly receive something? This whole situation reeks of impropriety.
I did some quick research this morning and found several articles that just blew my mind. In 2014, in New York City, a company asked the City to have a deed restriction on one its properties. The city charged that company a $8.25 million fee. And their Mayor, Bill de Blasio is pissed he didn't charge them enough. CLICK HERE TO SEE
I also found this as it relates to the removing of a Deed Restriction in New York City. CLICK HERE TO READ In New York City, public hearings are required and the City charges huge sums to benefit its taxpayers and the process takes 7 months. NOT 5 MINUTES, IN A SECRET MEETING IN GRAND ISLAND TOWN HALL AT 8:01AM CLICK HERE TO SEE THOSE MINUTES.
The citizens of Grand Island need to call for an Erie County District Attorney Public Integrity Unit investigation into the actions of Mary Cooke, Ray Billica, Chris Aronica and Gary Roesch while they were in office.
Maybe this is why Mary Cooke erased all those documents in Town Hall? And where is that investigation going? REMEMBER, CLICK HERE TO READ!
We haven't even touched on the impropriety of the building of the THE SHED. And now we are hearing about Ray Billica trying to do it again with another project in Veterans Park?
One of the GIPIRATE's readers yesterday made this comment. We need to look into this as well.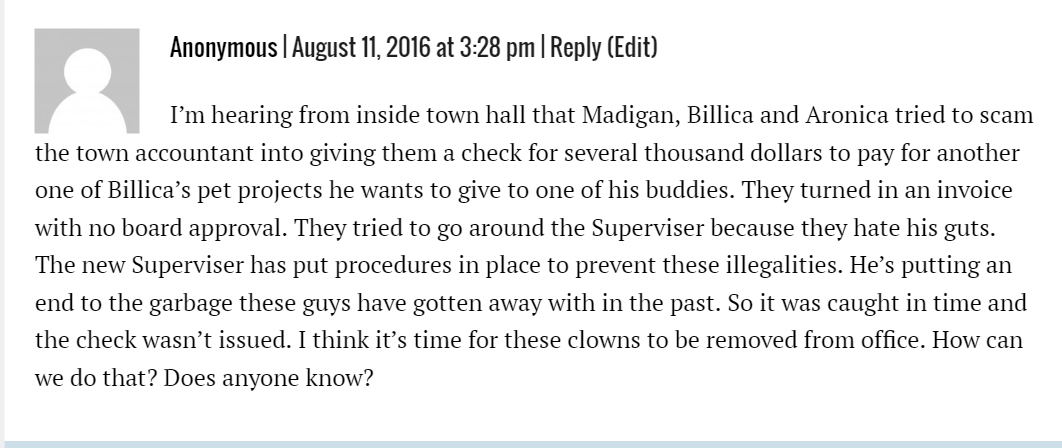 Let's slam the lid fast on the cookie jar and see just whose hands we find get caught.
It's time us Grand Island residents united and rid ourselves of these self serving individuals. They have been doing this to our Town for 25 years. They have been doing it so long they actually have an arrogant air of self entitlement (Ray Billica) to the perks they have been bilking out of us.
All Grand Island residents should go here and ask the Erie County District Attorney to investigate this.
CLICK HERE TO OPEN A ERIE COUNTY DA PUBLIC INTEGRITY COMPLAINT