This issue is exploding. The Pirates hit counter blew up after I posted that article. People everywhere are talking about this. Bankers in Niagara Falls, public officials in the local Cities and Towns from the Tonawanda's and Niagara Falls all the way out to East Aurora. People keep asking me "do I know more"? Can I post more? Yes, I can. There is a ton of stuff that I can post that all reek of impropriety. It's like a puzzle, when its in the box you can't see the picture, but when you put it all on the table it all starts to come together. In this case you then realize many of these people have been living off us taxpayers for decades. There were many lost opportunities that the Town of Grand Island itself could have made money on in fees that would have reduced the taxes of us citizens.
When that Real Estate Developer came and asked for the Town to remove the Deed Restriction. The Town should have done what New York City does. Charge a huge fee to do it to benefit the Town itself. The way New York City does it is they get an appraisal. Determine what the value of the property will increase if the Deed Restriction is removed. Figure out what the impact will be if they remove the Deed Restriction. In our instance it will effect out school taxes and then charge the party a fee to cover those things effected. In this case if a fee was charged, the Town itself did not receive it.
Here is one more little piece of the puzzle that I want all of you people to realize was another lost opportunity of the Town of Grand Island that our elected officials new about. And now you will realize when I say these people have been doing this for decades, I am not stretching the TRUTH.
Remember Tonawanda Coke? Read this article CLICK HERE.
Through Information and Belief, there are several Grand Island residents that I have heard that have gotten cancers, sued and received settlements. These settlements are sealed. These people cannot speak about their cases, but have received huge sums.
Through Information and Belief, the Town of Grand Island itself could have sued and received huge sums from Tonawanda Coke. But, one of our own elected Officials was looking out for Tonawanda Coke.
In 2007, Gary Roesch took thousands of dollars in political donations from principals of Tonawanda Coke and other Real Estate Developers. Notice these people don't live in Grand Island. CLICK HERE TO SEE
So all you residents saw the headlines above, Tonawanda Coke was fined $24 million in 2014. I just showed you Gary Roesch's Board of Elections Financial Disclosure. Did you see the highlighted name Robert Bloom? Robert Bloom gave Gary Roesch $500 in 2007. Robert Bloom was the President of Tonawanda Coke from 1980 to 2011. Why did the President of Tonawanda Coke give Gary Roesch $500? Did you see the highlight name PA Saffrin? PA Saffrin gave Gary Roesch $1000 in 2007. PA Saffrin was the CEO of Tonawanda Coke. Why did the CEO of Tonawanda Coke give Gary Roesch $1000?
I can tell you. Through information and belief and according to the Federal Lawuist this is when Tonawanda Coke was releasing cancer causing benzene into the air that was floating over Grand Island.
Do I think the Town of Grand Island could have sued Tonawanda Coke? Yes, I do. I think the Town could have sued for millions of dollars. Instead Tonawanda Coke bought one of our elected officials with donations and who knows what else?
Do you see what I am talking about now? These are all little pieces of the puzzle. And when you put them all together it reeks. This is what these elected officials have been doing for the past 25 years.
In the end, after the Federal Government came in and sued Tonawanda Coke and fined them $24 Million. Our illustrious elected officials Dick Crawford, Gary Roesch, Ray Billica, Chris Aronica and Mary Cooke decided to beg for some scraps from the Federal Fine.
This is the only action your elected officials took with respect to Tonawanda Coke.
Town of Grand Island – Regular Meeting #13 Monday, July 15, 2013 – 3 Impact Statement
Tonawanda Coke Case
A motion was made to authorize the Supervisor to send a letter on behalf of the Town of Grand Island regarding the Tonawanda Coke case requesting the fines levied be used for the local communities negatively affected by the illegal emission from Tonawanda Coke to fund projects that will enhance the health, welfare and environment of those communities.
APPROVED Ayes 5 Crawford, Roesch, Billica, Aronica, Cooke
These people should be ashamed of themselves. Let's get rid of them.
And it appears something else is happening in Town Hall that we are investigating right now. A reader posted this 2 days ago.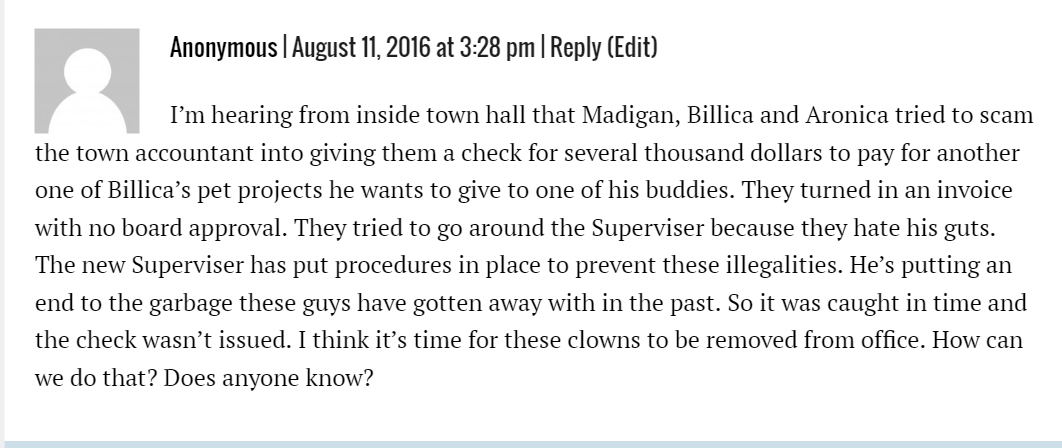 All Grand Island residents should go here and ask the Erie County District Attorney to investigate this.
CLICK HERE TO OPEN A ERIE COUNTY DA PUBLIC INTEGRITY COMPLAINT
This is what the Erie County District Attorneys Public Integrity Unit says
The Erie County District Attorney's Public Integrity Unit was formed in January 2016 by Acting District Attorney Michael J. Flaherty, Jr. to crackdown on corruption in all levels of government and help restore the public's trust in our elected officials. Led by Chief Paul E. Bonanno, Assistant District Attorneys assigned to this unit investigate and prosecute corruption and public integrity cases.
These cases involve crimes committed by public employees, elected officials, candidates for public office and other public servants. The crimes can include criminal conduct, including perjury, bribe receiving, official misconduct, larceny and falsifying business records.
To help root out wrongdoings, Acting DA Flaherty has set up a Public Integrity Complaint Form where the puiblic can report any possible violations.
Acting DA Flaherty has also laid out a new initiative to reform the Erie County Code of Ethics that governs elected officials.
The Flaherty Plan includes tougher rules for holding government and political party officials accountable and preventing waste, fraud and abuse of taxpayer's dollars.
"These are basic, common-sense proposals designed to make Erie County government more transparent," says Acting District Attorney Flaherty.
The proposed changes would:
*Limit campaign contributions from companies who do business with Erie County
*Make it a misdemeanor to violate certain provisions of the Code of Ethics
*Prohibit political party officials and their family members from being appointed to county jobs
*Prohibit the hiring of relatives of political party officials to county positions
*Prohibit elected officials from earning outside income with anyone who has a financial interest with Erie County
*Require the immediate firing of an elected or appointed official if convicted of a crime
*Increase financial penalties for certain violations of Ethics laws