Thursday September 8th starting at 5:15 PM – 9:30 PM
3200 S Park Ave, Lackawanna, NY
Lake Erie Italian Club
You can also get tickets by calling or texting 716.406.7407. Make sure and leave a message if you get the voicemail!
To make donations please send check to PO Box 204, Grand Island, NY 14072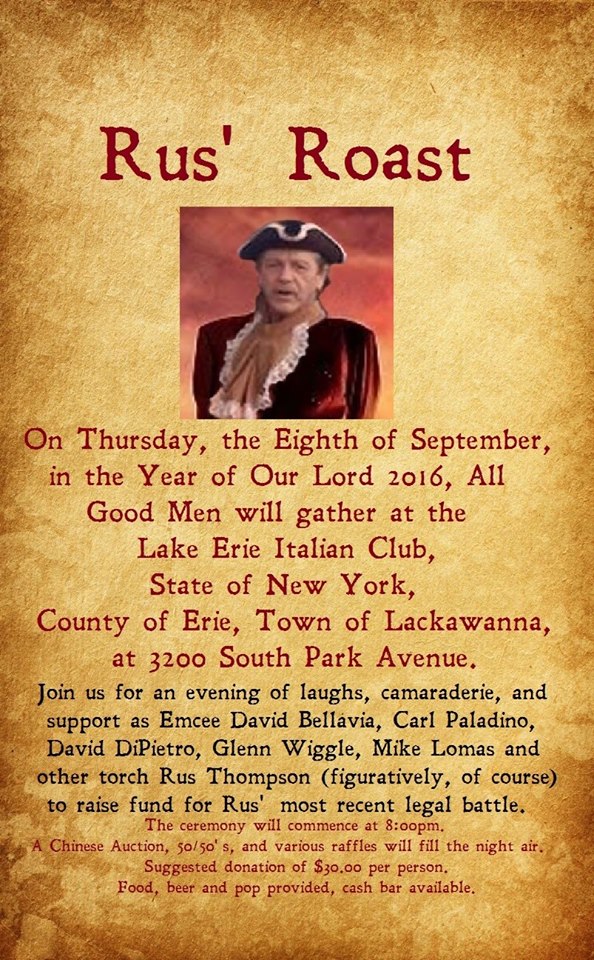 Rus Roast
If you don't already know about Erie County DA Michael Flaherty's bogus political hit on me dear sweet 'usband and TEA New York's own Rus Thompson for "voter fraud," check it out here – Was political activist Thompson targeted by DA for his beliefs? …Rus & I were illegally put out of our home on Grand Island, and when he went back to vote, he found he'd been purged from the voter rolls. So he filled out an affadavit with his address of record with the Board of Elections, and the defeated Grand Island Supervisor hand-delivered it and pressured the DA for six months to bring felony charges for not putting his temporary address on the affadavit. Sound re-DONK-ulous? Yep, there it is, Democrat Flaherty is running for reelection and thinks he can win points by bringing corruption charges against the guy who goes after corruption.
One of the last times these charges were brought to bear, was against Susan B. Anthony. For voting. As a woman.
MAKE SURE YOU GET YOUR TICKETS to help us Roast Rus to raise funds for his legal defense!
Tickets are only $30 to enjoy some food & friends while watching some great headliners roast Rus, just like the Dean Martin Roasts way back when.


David Bellavia hosting, with Carl Paladino, Assemblyman David DiPietro and
The Financial Guys, Mike Lomas & Glenn Wiggle
Lake Erie Italian Club
3200 South Park Ave, Lackawanna NY
Thursday September 8, 2016
5:15- 9:30 PM
You can call or text (716)406-7407 for tickets.